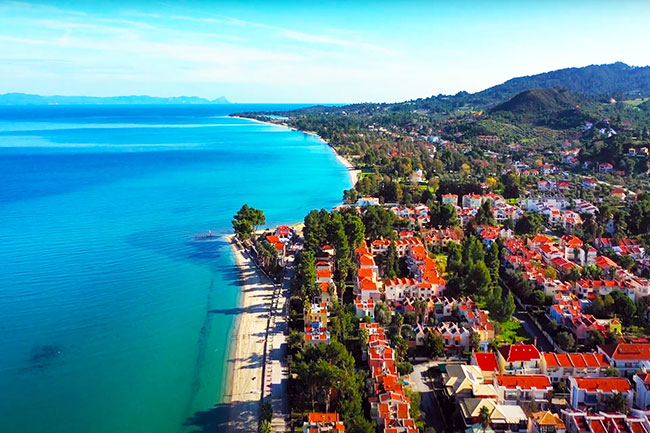 Pefkochóri (Greek: Πευκοχώρι [Pefkochóri]) is a quiet place with white houses among citrus and olive groves, and extends to the area of a popular resort in the Gulf of Toronto.
During the summer, visitors go snorkelling, parasailing and sunset walks before dinner in gourmet Mediterranean restaurants or informal taverns.
When it gets dark, Greek and Serbian music is played in bars and clubs for celebrations.
Most stores sell craft souvenirs such as jewelry and lemon liqueur.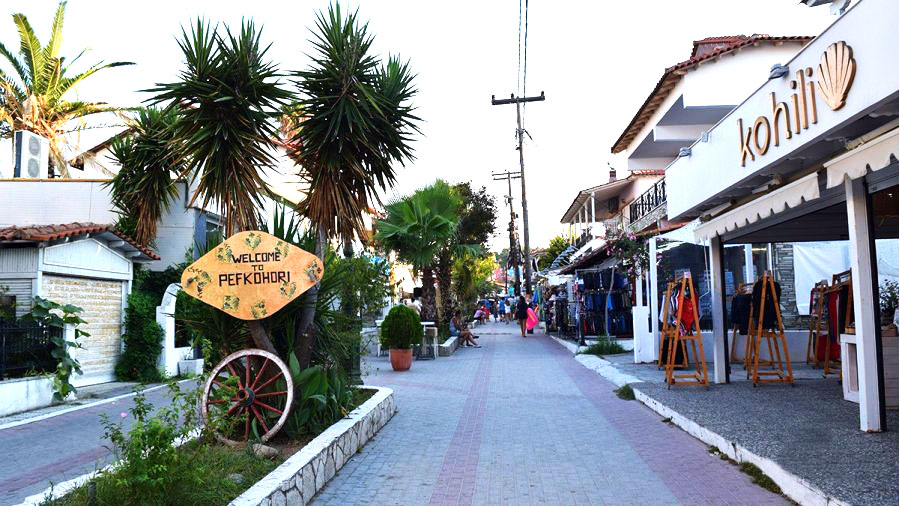 Pefkochori is a town (summer resort) in Greece on the Kassandra peninsula (better known as the first finger) in Halkidiki, Kassandra municipality, Halkidiki district, about 100 km from Thessaloniki.
The settlement was founded at the beginning of the 9th century as a fishing village by refugees from Turkey.
Pefkochori has a primary school, a church dedicated to St. Nicholas (the central church in the town), a Galis camp, a sports resort with numerous courts 2 km away from the place, founded by the former captain of the Greek national basketball team - Nikos Galis.
A little further is an interesting marina of regular shape - Glaros. The beach is kilometers long and sandy. In nice weather, you can see the Holy Mountain - Athos.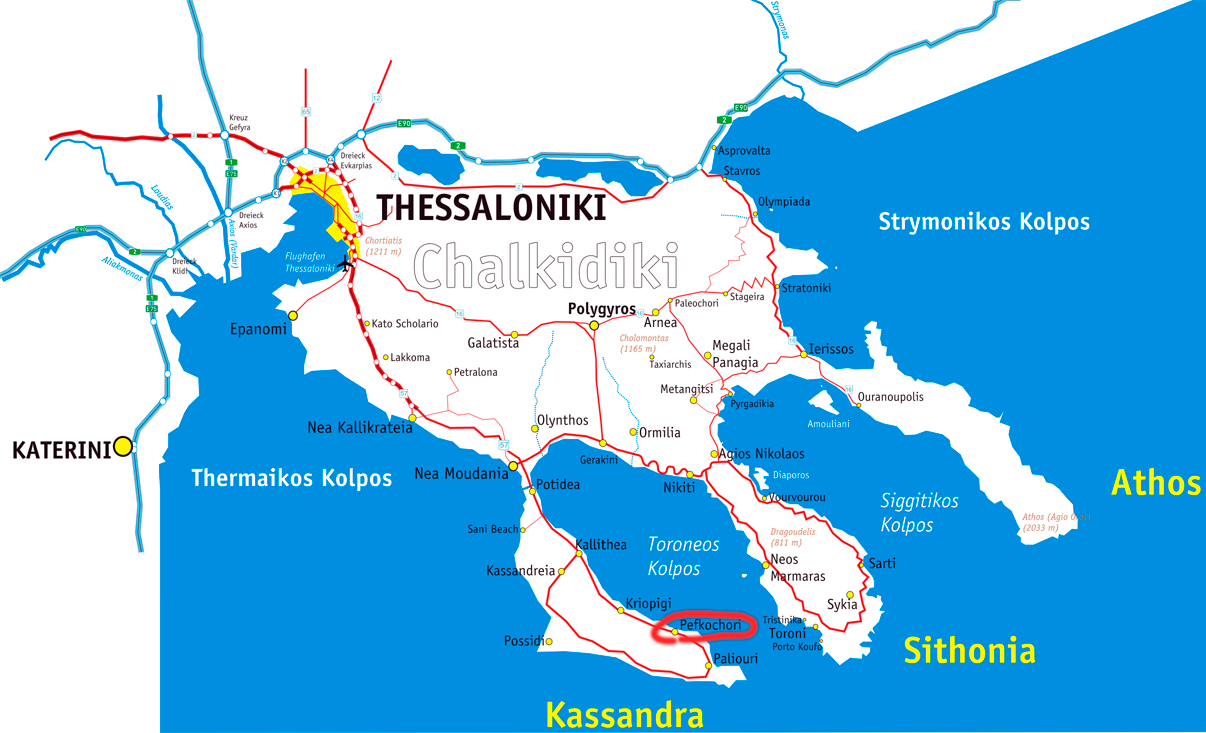 Halkidiki (Greek: Χαλκιδική [Chalkidikí]) is a peninsula in the Aegean Sea, stretching over 3000 km, within Greece - the province of Aegean Macedonia.
Halkidiki also consists of three smaller peninsulas:
Holy Mountain or Athos in the southeast,
Sithonia in the south and in the middle and
Cassandra in the southwest.
Central Macedonia is one of the 13 peripheries in Greece. It is located in the north of the country and covers the central part of Aegean Macedonia. The administrative seat of the periphery and its largest city is Thessaloniki, the second most important city in Greece where Thessaloniki Airport is located.
The Aegean Sea in the part around Halkidiki is pleasant and mild
Coordinates:
39 ° 59 ′ 18 ″ N; 23 ° 36 ′ 44 ″ E
Time zone:
UTC + 2 (EET), Flight UTC + 3 (EEST)